History Of Natural Stone Veneer
Established in 2001, Natural Stone Veneer by ImExWare manufactures the finest quality natural thin stone veneer in a large variety of finishes and colors. Our showroom and warehouse are located in Las Vegas, Nevada and we ship nationwide. Our veneer can be used for Commercial, residential, interior or exterior applications, on floors, walls, kitchens, bathrooms, entryways, fireplaces, even your pool – our product offers flexibility in architectural and decoration applications.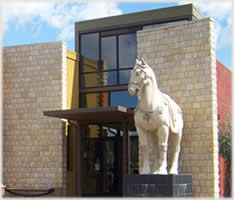 We offer 8 different finishes in stock and 16 available colors providing endless possibilities for your projects. You can even mix and match colors and finishes for a look that's all your own. We also provide custom designs. The only limit is your imagination! Our natural stone veneer products are defined by their durability, high density and overall quality which allows you to achieve superior project results. Our products are independently tested and certified to meet the highest quality architectural specifications. And unlike synthetic stone, our products are virtually maintenance free!
---
About Natural Stone Veneer
Because our thin stone veneer is natural, it can be used almost anywhere on interior or exterior surfaces. Possibilities include but are not limited to: facades, fireplaces, bathrooms, cellars, window borders and trims, doors, pools, and so much more! We offer 8 different finishes of our thin stone veneer, along with 16 different colors. Since our stone is natural, we cannot guarantee exact colors of nature's art, please allow for variations in the colors (up to 40%). Five of our finishes (split face, ledge stone, tuscan ashlar, stacked stone and biscotti) are limited to vertical surfaces. However, our bush hammer, mosaic, and polished/honed finishes can be used on both vertical and horizontal surfaces.
Why choose natural stone over synthetic? Synthetic stone is just another word for fake or artificial. Synthetic stone is typically made of either pre-poured cement that is painted or from chips of natural stone, embedded in a polyester resin, resulting in a thick product with limits to where and how it can be used. Our natural stone veneer is thin and can be used in a number of ways.

Synthetic stone is artificially colored and uniform. The natural variation of color in our stone is part of why our product is unique.
Synthetic stone is a high maintenance product. Once installed it needs waterproofing, cleaning and upkeep. Our low maintenance product can be installed and forgotten about!
Synthetic stone is NOT weather resistant and could be damaged by rain, snow or wind. Since our product is natural, it has already been tested by all the elements and will stand to most extremes.
---
Benefits Of Natural Stone Veneer
Easy installation – similar to tile installation, our product can easily be installed over stucco, drywall, backer board or masonry block using only thinset.
Thinner material – most of our pieces are ½ or less inches thick, allowing them to be used in more interior or exterior applications, including applications you may not have thought possible!
Durable – even though it's thin, the stone is a dense dolomite limestone which will allow it to hold up to any type of weather.
NO minimum orders – regardless of project size, we can fulfill your order!
FREE Samples – any item in stock is available to you as a sample. We only charge for shipping, which is $29.95 and refundable at time of purchase.
We invite you to browse through our website to take a look at our stone and finish collection, our latest projects and to find a distributor near you.
Natural Stone Veneer Videos